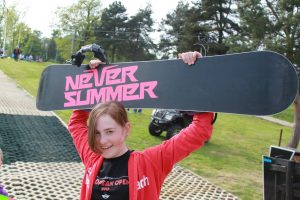 DOB: 20/4/2000
STANCE: 15′ 15′
FAV NS BOARD: I love my old Pandora but the onyx is a whole new level
LOCAL SPOT: Hemel hempsted Snow Center
IN YOUR OWN WORDS:
So far this year I have been very busy with competitions such as the BUTTA jam in Castleford which I won out of 250 boarders and skiers mixed categories. Next I went to the BEO in Laxx, Switzerland, which is a international comp out of 25 of the best girls boarders in the world I got 12th in halfpipe and 9th in slopestyle. After that I went to Tignes in France for the Brits which was a success! I got 2nd in boardercross and 1st in halfpipe and slopestyle.
Throughout the summer I have been busy with a list of competitions on snow and dryslope:
– Strawberry jam 1st in category and overall boarder
– Air attack Cristchurch 1st in womens
– Gap nation 1st in age category
– Farmers jam 1st in slopestyle and big air
– Snow tour Swadlincote 1st in age category
It has been a fantastic year so far with more yet to come
Future plans:
I want to be the highest qualified female coach in the uk and compete in the Olympics