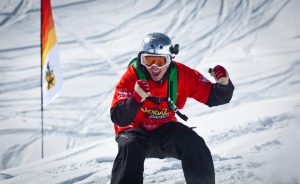 DOB: 30ssssss
YEARS SNOWBOARDING: 1990
FAV NS BOARD: Raptor 164
LOCAL SPOT: Chamonix
MOTO: Speed is your friend!
IN YOUR OWN WORDS:
Although fluking into becoming British Halfpipe Champion in 2000, my main interest was always shredding powder. It's amazing to be in the mountains, go up to the top of a lift, start hiking into the unknown with a few friends and the arriving at a peak exhausted. All you have in front of you is a big untouched powder field. And boom down to go on the cloud of snow, slashing the banks, jumping cliffs and having a big smile on your face.
The last few season I have been in Chamonix. A resort I used to hate because it was always tracked out, I have learnt to love it. Yes, you need to really work for getting an untouched powder run, but the terrain is second to none. Loads of very steep slopes where you can shred powder into June because of the high peaks.
When rocker technology came out I laughed it off. I couldn't understand how this type of technology could hold an edge better than a standard camber board. It was only when I got signed up to ride for Never Summer and had my first go on the Raptor that I realised how wrong I was. The board holds an edge like no other and the only thing holding me back was that my leg muscles weren't strong enough.
But for the 2014 season I am getting ready. 30 minutes of squats every day should give me the strength I need. Freeride World Tour 2014 here we come.