Industry Leading 3 Year Warranty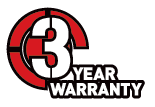 This is a true sign of what Never Summer is all about. It is not big hype and aggressive marketing – it is craftsmanship and experience. They put everything into the production of their range and therefore have the confidence to back it up with a 3 year warranty. This is something which has not been beaten by any other brands.
What does the warranty cover?
The warranty is a manufacturers warranty and does not cover any damage caused by abuse or impact. Any warranty must first be approved before any replacement is issued. Photos of damage and the board's serial number are also required.
Making a claim
If you would like to make a warranty claim please email us at info@maxtrack.com and provide images of the damage and the boards serial numbers.
The three year period
The 3 year warranty starts on the 1st September on the year the board is released. Therefore a 15/16 boards warranty would start on 1st September 2015. The warranty would expire on 31st August 2018.